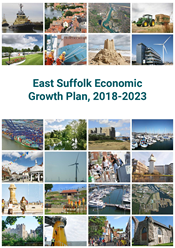 In East Suffolk we aim to provide a better quality of life by encouraging investment, business development and job creation. We work with a number of local, sub-regional, regional and national partners to support businesses and facilitate key regeneration opportunities.
If you would like to discuss any issues relating to business support, skills and training, land and premises, business networks or would like a visit from a member of the team to discuss the area and general business related issues then please contact us.
Read about our proposals to build more prosperity in the area in our East Suffolk Economic Growth Plan which provides strategic direction and a framework to the economic growth of East Suffolk, in line with the local and countywide aspirations.